---
BRIDGING THE RACIAL DIVIDE…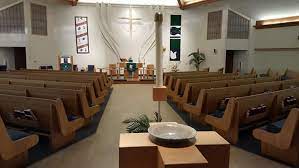 Peace Lutheran Church in Grass Valley formed a discussion group early in 2020 to discuss racism. Their purpose was to do more than just talk about the subject. They decided to contact the Bethel AME Church in Marysville since they were a bit connected through previous experience of having the Bethel Choir sing at their Grass Valley celebration of MLK Day.
The group at Peace has twelve to fourteen people at each meeting, some of them coming from other churches in our community. Four members of the LDS group in Yuba City joined a book club headed by Bethel Church, as did four members of Peace Lutheran. Their long term goal
is to end the racial divide by coming together as Christians. Books they have read include "Caste," "The Color of Law," "Just Mercy," "The Color of Compromise," "The Vanishing Half," and others.
Just happened: Since the movie "The Black Church" was recently shown on PBS, it was suggested to the Bethel Church that we come together and watch it together. "Dinner and a movie" took place on Nov. 13, 2021, in Marysville. It was also a fundraiser for the Bethel Housing and Development corporation, a non-profit supported by Bethel which provides food, housing and other services for the needy in the Marysville area.
This has been a process of developing trust. It has been a bit slow, but it is working. We are achieving what we had hoped in that our two churches are working together for one purpose. Our group is growing slowly, but we hope that this event and those to follow will add numbers to our group. The Council, Pastor, and Congregation of Peace, as a whole, support our efforts. We are excited by how well this is being received. After Bethel has completed the series of seminars on the history of the Black Church, we plan to do a presentation in Grass Valley on the two AME churches that were once in Grass Valley and Nevada City, and why they no longer exist. Several groups in the community are anxious to help with that. I think we have developed a strong friendship with the few members of Bethel that we have been working with. We hope that this is just the beginning of a lasting relationship that will continue to grow, with more joint activities, to bring in other churches and groups whose goals are the same as ours.
Shared by Judy Kenney of Peace Lutheran, Grass Valley